CFAG at Sir Harold Hillier Gardens
2019 will be the 50th Anniversary of Chandlers Ford Art Group and we are
holding a two-week exhibition in January 2019 at:
The Sir Harold Hillier Gardens in Jermyns Lane, Ampfield, SO51 0QA.
The exhibition runs from Wednesday 23 January to Tuesday 5 February 2019.
It opens at 10.00 am, and closes at 4.00 pm daily (3 pm on the last day).
We are extremely excited about the opportunity to show the work of Chandlers Ford Art Group in such lovely surroundings.
Our group have pulled out all the stops to create some wonderful work for our exhibition!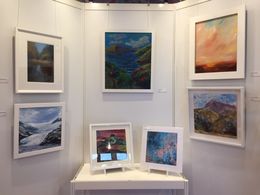 During the exhibition, the following artists will be painting in the exhibition space and will be pleased to talk about their work:
....
Saturday 26 January – Wendy Jelbert (all day)
...
Sunday 27 January – Colleen Cockroft (morning)
...
Monday 28 January – Ruth Ann Lewis (all day)
...
Wednesday 30 January – Sue Bowery (afternoon- to be confirmed)
...
Thursday 31 January – Sally Goodden (morning)

...Friday 1 February- Wendy Jelbert (all day)
...
Saturday 2 February – Susie James (afternoon)
We look forward to welcoming old and new friends, neighbours and customers.
Entrance to the exhibition is free, and there is a lovely restaurant for coffee/lunches/cakes in the Visitor Reception building.